Think pallets are boring? Think again! Wooden pallets, like ones available from
Herwood Pallets
are not just a staple of the transportation industry, but also fuel for countless creative projects. These small, sturdy platforms are built with open, horizontal slots for accommodating the tines of a forklift when moving products. A huge variety of products are transported from place to place on these portable platforms, and an equally huge variety of uses continues after these products are delivered and the pallets are no longer needed.
Stacked on end and fastened to a waterproof wall, the hollow centre of the pallet can become a space for potting soil with plants growing out through the spaces between the slats. Or, by simply adding four castor wheels, a glass top, and some wood finish, a pallet can be turned into a rustic and highly functional coffee table. Or how about pallet-style butchers block in your kitchen? Cut in half and stacked on top of one another, pallets also make a unique wine bottle storage rack and shelf. Pallets can also be taken apart, freeing up the wood for reuse as other kinds of shelves, coat racks, bookcases, and worst case scenario...kindling for you woodstove.
Because they are often dumped or left for scavengers to pick up outside of businesses for free, scavenged pallets can be a very economical material to work with. Most pallets are made from quality hardwoods like oak and mahogany. Others are made of softer woods, but all are built with strong fasteners that usually have shanks to resist pulling. This gives wooden pallets a high amount of strength, making them ideal for other purposes that require this characteristic, like gates and chairs.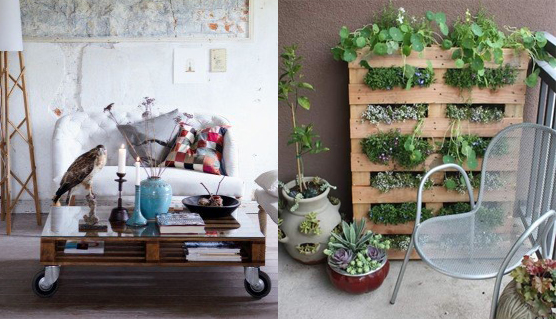 Because of these fasteners, the best way of taking a pallet apart is by using a reciprocating saw, or hacksaw, to cut the nails below the slats. This avoids splitting the wooden slats when removing the resistant nails. The nail heads can then be easily popped out of the slats and the rest of the nail simply left in place. When reusing pallets, it is sometimes necessary to fill in the open spaces on one or both sides. Wood for this can easily come from taking apart another pallet that is damaged.
Long story short, pallets are a fantastic way to inspire your spaces with a rustic, creative touch at a very minimal cost.
Have a recycled pallet project to share? Let us know!